Our Network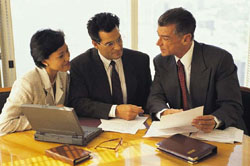 W.C. Hundley & Associates believes that comprehensive wealth management* encompasses taxation, estate-planning, investments, real estate, and philanthropy. 
No one person, however skilled, can be an expert in each of these fields.  Accordingly, our company has developed a network of highly-qualified professionals who specialize in each of the aforementioned areas. 
Unlike some companies, W.C. Hundley & Associates accepts no compensation from our referral network.  When we refer you to another professional, be assured that the referral is rooted in your best interests, not our own.